Military
There are many opportunities for young people to gain valuable skills and work experience within the United States Military.  Some students will opt for a military education followed by military service, while others will choose military service (which includes education and training) followed by education benefits after service.  Consult a military recruiter to learn which branch, which career, and which option best fits you and your interests.  Finding a military recruiter near you can be done online, or you may come to our office to pick up a recruiter's contact information.
Military Academies
College ROTC Scholarship Opportunities and Programs
National Guard Education Programs
Careers in the Military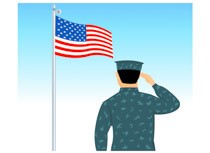 Want to learn more about the ASVAB?