Blog
Update for the Week of March 11, 2019
---
Update for the Week of March 4, 2019
---
Update for the Week of February 25, 2019
---
Update for the Week of February 18, 2019
---
Update for the Week of February 11, 2019
---
Update for the Week of January 28, 2019
---
Update for the Week of January 22, 2019
---
Update for the Week of January 14, 2019
---
---
Update for the Weeks of November 19 & 26, 2018
---
Update for the Week of November 13, 2018
---
Update for the Week of November 5, 2018
---
Update for the Week of October 29, 2018
---
Update for the Week of October 22, 2018
---
Update for the Week of October 15, 2018
---
Update for the Week of October 1, 2018
---
Update for the Week of September 24, 2018
---
Update for the Week of September 17, 2018
---
Update for the Week of September 10, 2018
---
September 5, 2018
Juniors will receive a handout in Homeroom to help prepare for senior year. It is attached here also: Senior Summer Planning Guide 2018-19
——————————————————————————————————————————————–
—————————————————————————————————————————————–
——————————————————————————————————————————————–
Week of March 26, 2018
……………………………………………………………………………………………………………………………………………………………………………
Week of March 19, 2018
——————————————————————————————————————————————–
Week of March 12, 2018
——————————————————————————————————————————————–
Week of March 5, 2018
—————————————————————————————————————————————–
Week of February 26, 2018
—————————————————————————————————————————————–
Week of February 19, 2018
—————————————————————————————————————————————–
Week of February 12, 2018
———————————————————————————————————
Week of February 5, 2018
———————————————————————————————————
——————————————————————————————————————————————–
——————————————————————————————————————————————–
——————————————————————————————————————————————–
—————————————————————————————————————————————–
10/2/2017
———————————————————————————————————
9/25/2017
———————————————————————————————————
9/18/2017
———————————————————————————————————
9/11/2017
———————————————————————————————————
9/4/2017
DUE–Lifeguarding course (9/7) + WFU Admissions Tour (9/7 in Asheville)
NEW–NCSSM (9/11 *more info below*), ASU Open House (9/16) & Service Academy Day (9/23)
For more information about these opportunities, go to http://teacher.haywood.k12.nc.us/phs-counselingcenter/opportunities-new-page/.
See Mrs. Case to sign up. The cost is $16.00 (cash or check payable to Pisgah High School).
9/2/2017:
Credit by Demonstrated Mastery (CDM)
CDM is the process by which students may be awarded credit for a course without the required seat time.  It is open to all students in 9-12 and to students in 6-8 for high school courses offered at the middle school.  Students may NOT attempt the process for a course in which they are currently enrolled.
_______________________________________________________________________________
Archived Posts from 2016-2017:
5/14/17:
Current Juniors/Rising Seniors (Class of 2018):  SAVE the DATE for RISING SENIOR NIGHT on 6/1/17.  We hope to see you at Rising Senior Night for the Class of 2017 on Thursday, June 1st at 6:00pm in the gymnasium lobby.  While this event is designed for our current juniors, we invite seniors that still have questions regarding HCC or the military to attend.  Also underclassmen that are eager to start planning ahead are more than welcome to come!   Join us to learn the must-knows of senior year.  Representatives from the military, East Tennessee State University, HCC, two year degree programs, senior portraits, RIBN (RIBN pronounced as ribbon) program, and others will be on campus to provide valuable information from 6:00-6:30pm at the 'Meet and Greet.'  At 6:30 the 'Program' will begin and will cover everything from senior parking passes and senior ad information to college applications and employment.  Don't miss this event!!!
2/26/17:
Rising 9th (Current 8th!!!) – We are excited about our future PHS Bears!
We hope you frequently visit our webpage for upcoming opportunities, scholarships and happenings.  You are going to begin preparing for your first year in high school this week!!!  A great resource to you and your parents is the Program of Studies.  Have a question about a class?  You may just find the answer within.  We are excited to meet you and look forward to having you on our campus.  So many great times await!
Posted 2/5/2017 (Alert Now from 2/5/17):
This week, we begin our registration process for next school year.
There will be mandatory class meetings during Smart Lunch in the auditorium.
Students may attend either tutorial:
9th grade on Tuesday,
10th grade on Wednesday and
11th grade on Thursday.
Also, there will be an optional presentation to parents on Thursday at 6:30 p.m. in the auditorium.
The purpose of these meetings is to share a new application process for Career & Technical Education Advanced Studies, Honors, Advanced Placement, North Carolina Virtual Public School and Haywood Community College courses, including Automotive, Criminal Justice, Early Childhood, Electronics and college transfer.
The application will be a grade-specific online form and require an electronic parent signature.
It will be available on the Pisgah High School homepage on Tuesday and is due no later than Monday, February 13th.
The updated Program of Studies with course descriptions and prerequisites will be on the homepage also.
Students may receive help with the online application in the Counseling Center during SmartLunch.
Additional registration dates will be added to the online school calendar.
We will notify you by phone a week prior to your child's registration day, so you will have time to review materials and discuss course selections.
If you have questions, please call Pisgah High School at 646.3440.
Posted 1/9/2017:
+Senior News:
-Scholarships continue to become available each week.  Make sure you are signed up for the Scholarship Remind account to receive the latest updates.  Haywood County Schools Foundation Scholarship Application just opened on 1/9/2017.  Find it here http://www.hcsf.haywood.k12.nc.us/scholarships/ .  Applications are due to the PHS Counseling Center, with all supplemental materials, on March 13th.  Please see your counselor for assistance with the process.  Don't procrastinate!
-WorkKeys scores should be returned soon!  Our seniors worked very diligently on their tests in early December!
+Junior News:  All juniors are required by the state of North Carolina to take the ACT on February 28th.  ACT Prep will kick-off on January 20th and 11th grade students will be required to attend weekly prep provided by our subject area experts, PHS Teachers!  The ACT can open many doors for our students looking for scholarships and admission to two-year and four-year schools.
+9th – 12th Grade News:  We keep expanding on our resources for students and families.  Please check out the "Opportunities" database, located on the "Opportunities" page, for ways for your child to set themselves apart from the pack by exploring summer or weekend activities.
+9th – 11th Grade:  Registration information will be coming home during the months of February and March.  Stay tuned for info regarding 2017-2018!
Posted 11/10/2016:
College Application Week is here!  November 14th – November 18th!  This is a school-wide event.  We would like to see participants from every grade level meet with our college representatives visiting with us during Smart Lunch.  Everyone will be wearing their college gear all week long and participate in trivia each morning. On Wednesday, seniors will be able to receive assistance on their college applications throughout the day.  We are very excited about the number of participants we have signed up to take the next step.  Many NC private colleges and universities waive their application fee during CAW.  Encourage your freshman, sophomore, or junior to come by the Counseling Center to explore their options for higher education!  It's never to early to start thinking about the future.  Check out the CAW Calendar 2016!
Posted 10/19/16:
Congratulations to Brandee and Eli for being named our 2016-2017 Pisgah High School Wendy's High School Heisman recipients!  These two are scholars who lead among their peers on campus and perform on the playing field/court.  We are proud of you!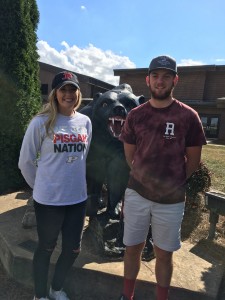 Posted 10/8/16:
12th Grade:  Audit meetings are wrapping up!  We have enjoyed sitting down with each of our seniors and discussing what they need to do in order to graduate this year and where they are headed after Pisgah.  We have encouraged all students planning to attend a four-year college or university to apply by the early action dates for their respective schools of choice.  Some popular dates are listed on Counseling Center homepage under our 'Latest Posts.'  We have encouraged students applying to participating private NC universities and community colleges to apply during College Application Week.  College Application Day is Wednesday, November 16th.  We look forward to helping seniors complete their applications in our media center computer labs.  This is an exciting time for the Class of 2017 as the bulk of acceptance letters will start to arrive as early as December!  Can you believe we already have at least five students accepted?  Encourage your student to start applying NOW if they haven't and to share a copy of their acceptance and award letters when they begin to arrive!!!
Also the FAFSA (FREE Application for Federal Student Aid) is now open!  Please complete as  soon as possible, using your 2015 tax returns, at https://fafsa.gov/ .  Please do not go to fafsa.com (They will charge for the service.  The FAFSA is FREE).   This is first step in receiving money for college.  Colleges/universities and scholarship committees will ask for students to submit a copy of their FAFSA.
WorkKeys Testing is coming Dec. 7th and 8th for all seniors who are CTE (Career/Technical Education) completers.  These students completed four courses in one of the eleven career clusters.  The WorkKeys test is part of the ACT series of assessments.  It offers these select students the opportunity to earn a credential to employers as part of the application process.  There are three sections included as part of this online test:  Locating Information, Reading for Information and Applied Mathematics.  They can earn Bronze, Silver, Gold or Platinum.  We want each of our seniors to reach Silver and above to make them more marketable for employment.  Ask your senior if they are eligible for this test.
11th Grade:  It's never too early to start preparing for the ACT.  Have your student check out actstudent.org for free test prep or download a free app for ACT Prep to receive a question a day.  Familiarity with the test will help so much to alleviate anxiety!
We will begin planning for next year, yes next year already, the week of October 31st with our current juniors.  This process takes several months, but know that your child may be coming home talking about their senior year very soon!
10th Grade:  Congratulations to our sophomores for completing the Pre-ACT!  This was the second of four ACT series tests that they will take from 8th grade – 12th grade.  We look forward to receiving their scores and helping them understand and utilize the valuable feedback.  Your student was tested in English, Math, Reading and Science.  This was a great first glimpse of the ACT which is a college entrance exam that all juniors take in the spring each year.  A mandatory sophomore meeting was held during Tutorials A/B on Tuesday 10/4/16 to explain the importance of this test and the implications for the future.
9th Grade:  Getting settled in…. PHS should feel like home now.  Our ninth grade students have been doing an excellent job adjusting to high school life and participating with our mentors during their Monday Mentoring sessions during advisory.
Posted 9/19/16:
Senior Audit Meetings begin today!  This is a very important time for each counselor to meet with her caseload in very small groups or individually.  Graduation requirements are reviewed and post-grad plans are made.  Counselors will discuss senior year procedures and resources that are available for every student, regardless of whether they want to pursue employment, military, or a two-year/four-year education.  These meetings will occur over the next couple of weeks.  We are trying to minimize our disruption to instruction and strategically plan when students are pulled.  Thank you for your patience as we see our 216 seniors!
Posted 9/9/16:
Seniors interested in retaking the ACT, are encouraged to do so by the October 22nd administration date.  The registration deadline for this test is Friday, September 16th.  Students must register at act.org.  Testing locations include AC Reynolds, TC Roberson, and Asheville High School.  Please see your counselor to check on fee waiver eligibility or to link your March scores to future scores by creating your ACT online account.  
Posted 9/7/16:
Senior – Welcome Class of 2017 (Senior Presentation)
We apologize for the technical difficulties today. Here is the print version of what we had hoped to share with you today. Thank you for your attendance and behavior!  Remember to come to the Counseling Center for information about the Morehead-Cain, Park, and Roan scholarships on Friday, 9/9/16.
Posted 9/6/16:
Attention Class of 2017:  Please make plans to attend a meeting in the auditorium during Smart Lunch on Weds., September 7th during A or B.  Important information regarding taking the next step after graduation will be shared.  We will cover the process of applying to: two year colleges, four year universities, jobs and enlisting in the military!  See you then!
Also, seniors interested in learning more about the Morehead-Cain (UNC-CH), Park (NCSU) and/or Roan (ETSU)scholarships should attend an informational meeting on Friday, September 9th, during Smart Lunch (A or B) in the PHS Counseling Center Conference Room.
Posted 8/15/16:
Don't miss this valuable resources as you begin your senior or junior year!
2016-2017 North Carolina College Admissions Deadlines and Open House Information
Posted 8/12/16:
Anxious about the FAFSA?  Here are some links to help.
http://ifap.ed.gov/EarlyFAFSA/EarlyFAFSAResources.html – Early FAFSA Resource
http://ifap.ed.gov/EarlyFAFSA/earlyfafsaFAQv1.html – FAQ – Frequently Asked Questions
http://www.cfnc.org/home/sc/dr/webinars.jsp – Financial Aid Webinars
Posted 8/11/16:
Miss HCC Orientation today??? Check out these links for valuable information.
Fall 2016 CCP Information four fold flyer on legal
Posted 8/9/16:
HCC Courses Begin Monday, 8/15 – Orientation Thursday, 8/11 at 9:00 AM
Students who registered and qualified for HCC courses should have received a postcard inviting them to Orientation on Thursday, August 11th. It is very important you attend and get started on classes on 8/15. This includes all students who signed up for an HCC Online courses. NCVPS Online courses will start on the first day of the Haywood County Schools calendar, 8/22. Auto Tech/Auto Repair/AP Chemistry/AP Biology/AP Statistics will not begin before 8/22.
Posted 8/3/16:
Welcome Mrs. Smith & Webpage Updates:
We welcome Mrs. Leslie Smith to our team!  Mrs. Smith will be the counselor for students whose last names begin with letters P-Z.  Please join us in giving her a warm welcome to Pisgah!
Our webpage has been simplified and a fewer number of tabs are available.  Newsletters have been replaced with an online calendar and online scholarship database, therefore the need for grade level tabs is no longer necessary.  We are revising each day as we head into a new school year.  Please click on the "Parents" and "Scholarships" tab throughout the year to find these links quickly.  Please feel free to email us to let us know what you would like for us to provide on the website that would be of service.  We are always open to suggestions.  Thanks!